SimpleVMS Dashboard functions as an overview of important work flow items. The Dashboard is comprised of several columns to show you at a glance what is happening with your Workers, upcoming reminders, new candidates, etc.
Unread Messages: This is a listing of the 10 most recent unread messages from your Communication Center, found in the top right corner of the screen.
When you select any message under the Unread Messages column it will open up the message for you. From here you will be able to reply directly to the message, if need be, or 'Link' to what the message is about to take any necessary action.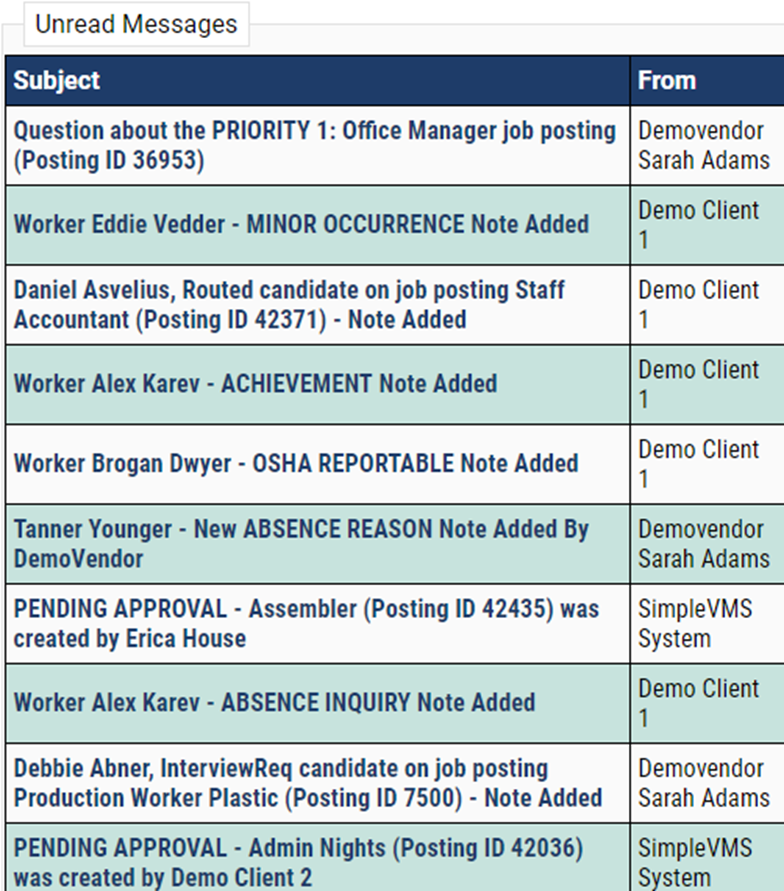 You are also able to see all messages in your inbox as well as all messages that you've sent by going to the 'Communication Center' found in the top right corner of your screen. This information is stored historically for you from your beginning of time within SimpleVMS.
Mass Email: From the Communication Center you will have the ability to send Mass Emails to existing Workers as well as to your Vendors. To do this you will the 'Mass Email' tab within your Communication Center.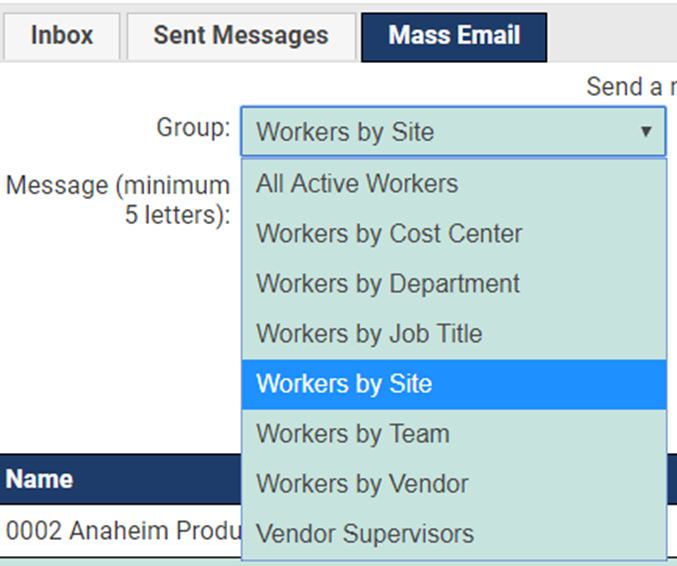 Choose the Group you wish your Mass Email message to be sent. Once selected a listing of everyone under that Group will display for you to further narrow down, if necessary, who you'd like to receive your message.
In the below example, when Workers by Site is chosen as the Group, a listing of your Job Titles, in which there are Active Workers will display. You can choose the Job Titles of the Workers you want to receive your email by check marking the boxes to the right of the Job Title.
Once you have identified whom you would like to receive your email, you can type your message and hit 'Send Mass Email.' This will send your message to the Workers at the site(s) you've selected and your message can be found under your 'Sent Messages' tab under the Communication Center.

Pending Time & Expense: Illustrates at a glance time sheets pending approval for your workers. It will provide a summary of their total hours broken out by: Reg, OT, and DT hours, as well as the associated spend for those hours. Time and expenses that are listed here are in a created or submitted status.
Created - time is still being added to these timesheets for the week currently being worked
Submitted - time needs to be reviewed, edited, and is pending approval.
The date you see listed next to your Workers name is the last day in your pay period for that week. If multiple weeks are displayed they will be separated out by a dark blue line, as shown below.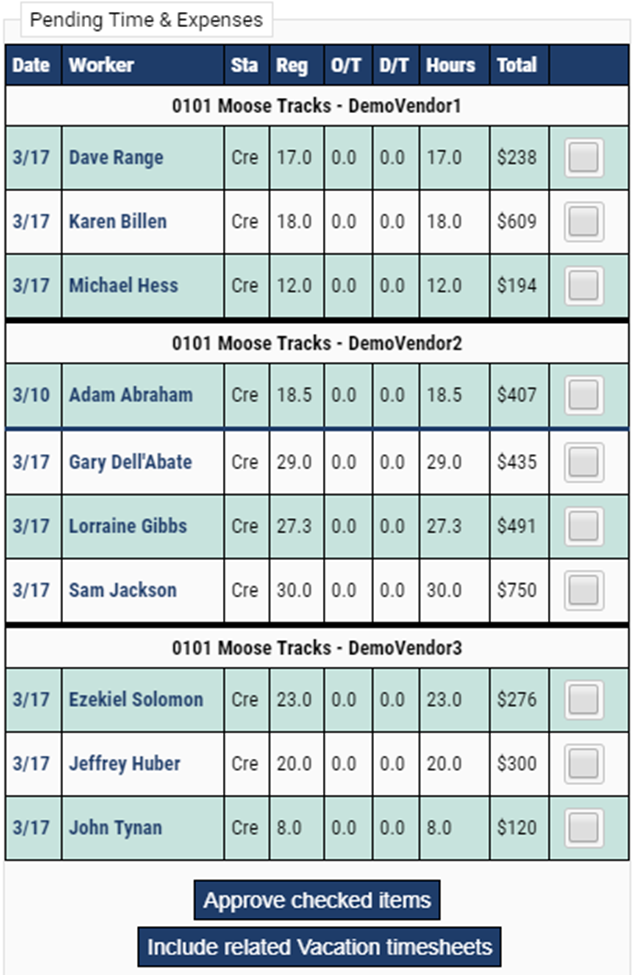 You have the ability to check mark the boxes next to the right of each Worker and selecting the 'Approve Checked Items' box to mass approve multiple time sheets. You will want to ensure that you have first reviewed and made any needed edits to the time prior to approval. How to edit time can be found on the Time & Expenses tab at the top of this Help page.
If you select the date, it will open up the Worker's time sheet for that pay period to review. If you select the Worker's name it will open up a page of ALL time & expenses that Worker has ever created from their conception within SimpleVMS.
Scheduled Items: Display's your most recent unresolved Scheduled Items for both Workers and Candidates. Each item an be reviewed in detail by clicking on the Task Name. As you can see in an example below, Scheduled Items can be reminders that SimpleVMS creates for you to alert when a Worker is nearing their conversion hours or they can be reminders of tasks that need to be completed for Candidates prior to being hired within your organization, such as Drug Test, Background Check, etc.
Tasks with a RED date are past due. Tasks with a YELLOW date indicate they are upcoming or due today.
You can manage your tasks from the Dashboard in a few different ways by choosing one of the buttons found at the bottom of your Scheduled Items column.
Mark Checked Items Completed: Tasks check marked when this button is selected will be marked as completed and will be dated and time stamped within the Worker's or Candidate's profile.

Email checked items to me (Outlook Calendar Format): Tasks check marked when this button is selected will be added to your Outlook Calendar as another means to remind you to complete them.

Email checked items to me (Comma Separated Format): Tasks check marked when this button is selected will be sent to the email account associated with your profile in a list format, as another means to remind you to complete them.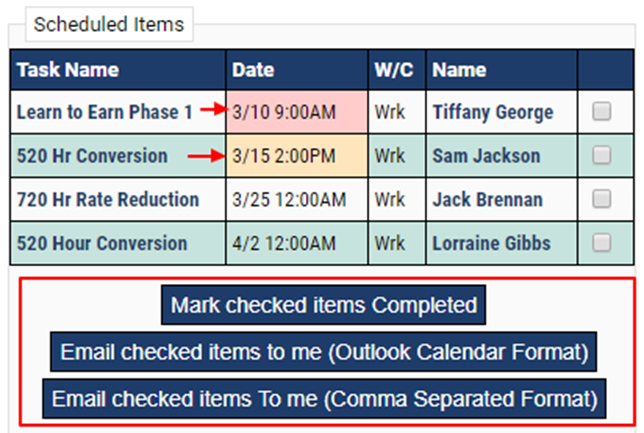 Selecting a task name will open up all reminders within the Worker or Candidate profile, as shown below. Please note that you may need to scroll down to the 'Scheduled Item' section on the Worker or Candidate profile to see this listing. It is here that you will see an overview of all of the scheduled tasks and their current status. You can add additional reminders as needed for your workers and/or select a created task and adjust the due date, enter notes, etc.

When you select a task name it will open up the details regarding. It is here that you can change the due date and time, manually change the status or if accidentally marked as Completed revert it back to Assigned, enter notes, and attach documents, as shown below, that you want to associate with the task.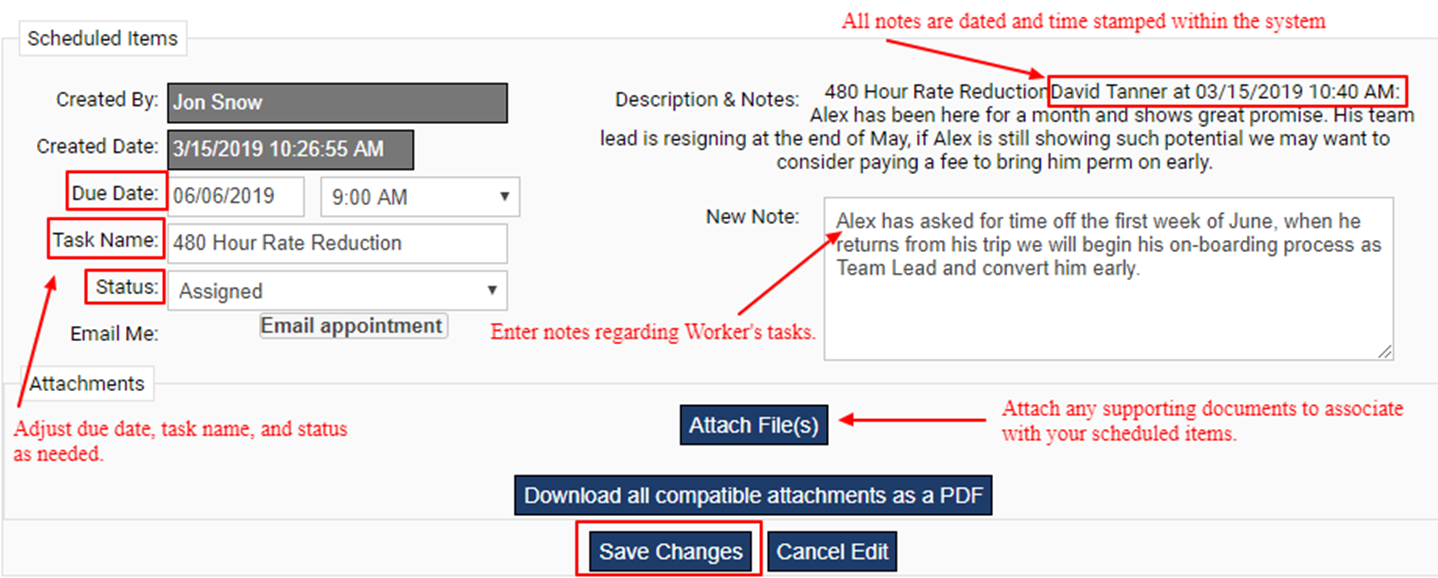 New Candidates: Provides a listing of new Candidates and the Job Posting for which they were submitted.

If you select the name of a Candidate it will take you directly to that person's 'Candidate profile'. It is here you can review all of the information that Vendor has supplied for this candidate. Once a candidate has been reviewed they will no longer show as a new candidate on this list. You will still be able to access them via the 'Candidates' tab within the system. How to manage your candidates, request interviews, etc. can be found on the Candidates tab at the top of this Help page.
SimpleVMS Timekeeping: If you are a Client that is utilizing SimpleVMS timekeeping the next 3 Dashboard columns will be relevant for you: In/Out Board; Daily Hours; and Workers with Missing Timesheets.
In/Out Board:
Allows you to quickly diagnose attendance, OT, left early, came in late, no shows, etc. The top section separates this information out by your Teams (if you utilize this feature in SimpleVMS) as you scroll down however it will break it out per Worker within each team.
The Team section on the In/Out board will total by team of Workers that are on-site currently It will also provide total hours worked for each team to date for this week.
Under the dark blue line on the In/Out Board you can find information about the most recent punch for each Worker, grouped by team in alphabetical order, as well as their time totals to date for this week.
These IN/OUT punches can be used to easily identify attendance issues, no shows, OT problems, etc. For example if you look at Lorraine Gibbs you know she came in late today (8:15AM IN punch). Jacob Jones has not yet not reported to work, he is still showing as Out, either he called in or no called/no showed or he is working but neglected to punch IN for his shift.
If you select the Worker's name in dark blue it will pull a listing of that Worker's time & expenses and you can further review their punch activity for the week.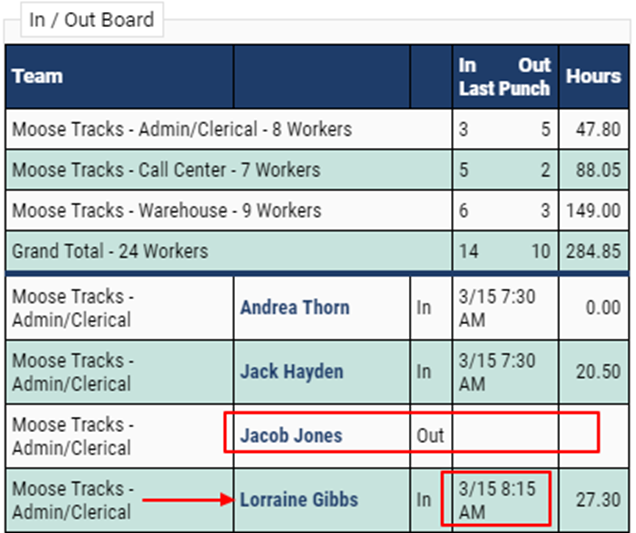 Daily Hours: Displays the time totals for each Team (group of Workers) separated out by site (Bluffton B09, MacLellan, & Southview in the below example) for each day of the week.

Daily Hours will quickly show you total hours worked for your teams so you can more easily manage potential project budgets and spend as well as assist in alleviating OT burdens.
Workers with Missing Timesheets: These individuals are Active Workers in which SimpleVMS believes they should have a time sheet for the week and currently do not. This section will let you quickly identify who is not here as well as any Worker that perhaps should have been closed out within SimpleVMS and was not.
Clicking on the Worker's name in dark blue will direct you to a listing of that Worker's Time & Expenses for you to review.
The Date column is referencing the last week end date that a time sheet was created for that Worker.
In the example on the right, Jack Brennan and Michael Gordon have not yet created a time sheet for this week. If they are no longer on assignment they will need to be closed out within SimpleVMS. If they are still on assignment, they may have alerted you to their absences and the next time they punch or log time they will come off of the dashboard. If they are at work a reminder to log their time accurately may be needed. Once they log their time they will come off of your Worker's with Missing Timesheets column.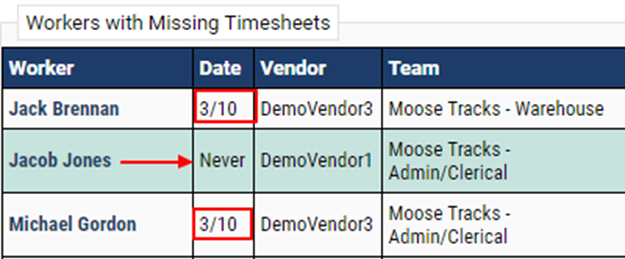 Jacob Jones has Never created a time sheet in SimpleVMS. It could be that the incorrect start date for him was chosen upon hire as a result the system believes he should already have time and doesn't. Once he punches for the first time, he'll be removed from your Dashboard.
It could also be that Jacob, after hire within SimpleVMS, decided he did not want to work the assignment and No Called/ No Showed. In this instance you would need to close him out of the system by going to his profile under the Worker's tab.
Please don't hesitate to reach out to SimpleVMS Support for assistance at any time.
Phone: 888-255-8918 ext. 2
Email: support@simplevms.com