Notes can be used by both Vendors and Clients to communicate important information regarding a Worker.
Notes are dated and time stamped by who entered them and stay within the system forever. They are a great way to communicate back and forth between Client and Vendor as well as to log information surrounding a Worker without the need for paper files or looking through past emails.
From the 'Workers' tab type a few letters of the associates first or last name in the search term field.

Select 'Search'.

Select the workers name to open their worker profile.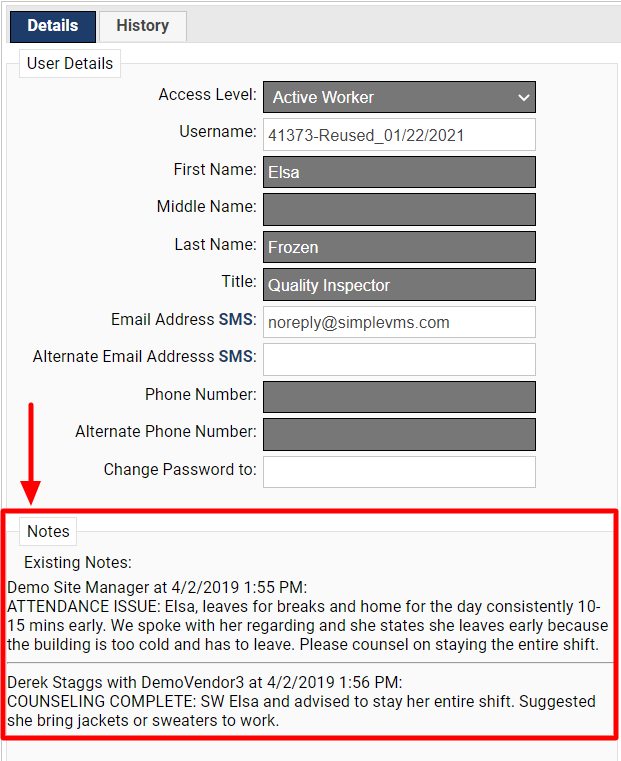 To view a note within SimpleVMS:
On the left hand side of the worker profile, scroll down to the 'Notes' section. Here you can review previous notes entered for this worker.

All notes are dated and time stamped by who entered the note.

Notes logged within SimpleVMS become your record/file for this worker. They will be accessible in SimpleVMS forever. Even if the worker is no longer active and on assignment you will still have access to view this information.
To add a note within SimpleVMS:
Select a 'New Note Type' from the dropdown menu.

After you have selected a note type you can enter in your note in the 'New Note' section directly above the dropdown menu.

Be sure to scroll to the bottom of the page after you have entered in your note and select 'Save Changes' so your note is saved and sent to the client.