When a job posting title is selected the system will open up the details of that posting. It is here you will see all of the information the client has shared for this role.

The job posting will default to the 'Details' tab for the order. This is broken up in 3 sections.
Overview: The first section is the 'Overview'. It is here you will see all the rate information, location, work schedule, hiring manager, etc. for the position.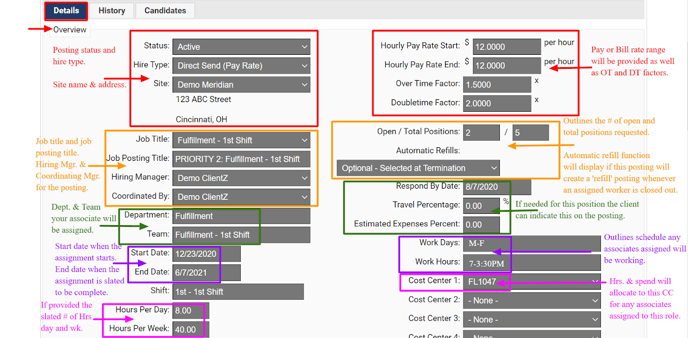 ---
Requirements: Is the second section of the job posting details. It is here that the client will outline what items need to be completed and potentially attached prior to someone starting the assignment.
In the below example a drug test, background check, I9(citizenship/E-verify), as well as COVID quiz are required to be completed prior to anyone starting the assignment. You'll notice there are different requirement tiers selected on this role. SimpleVMS offers 3 different requirement tiers to the client.
There are 3 different requirement tiers that your client can select:
Vendor Retains: These are requirements that are to be completed by your agency prior to someone starting their assignment but no documentation needs to be uploaded into the system.

Attached on Submittal: Candidates may not be submitted to a job posting unless these requirements are attached to the candidate profile.

Pre-Employment: Candidates may be submitted to job postings without these requirements being attached however a candidate may not become a worker until these requirements are attached to the candidate profile.
NOTE: For the hire type of direct send (DS), attached on submittal and pre-employment mean the same thing as once a worker is submitted to a posting they are automatically assigned and become a worker.

---
Details & Attachments: These are the last 2 sections of the job posting details.
The 'Details' section will provide to you the job description (if one was provided) for the position.
SmartMatch FAQ: Underneath the job description is an FAQ section. Should you have a question about this posting you can select the 'Ask a question about....' button. When selected you'll be directed to the communication center and you will be able to enter you question to submit to the hiring and coordinating manager for the position.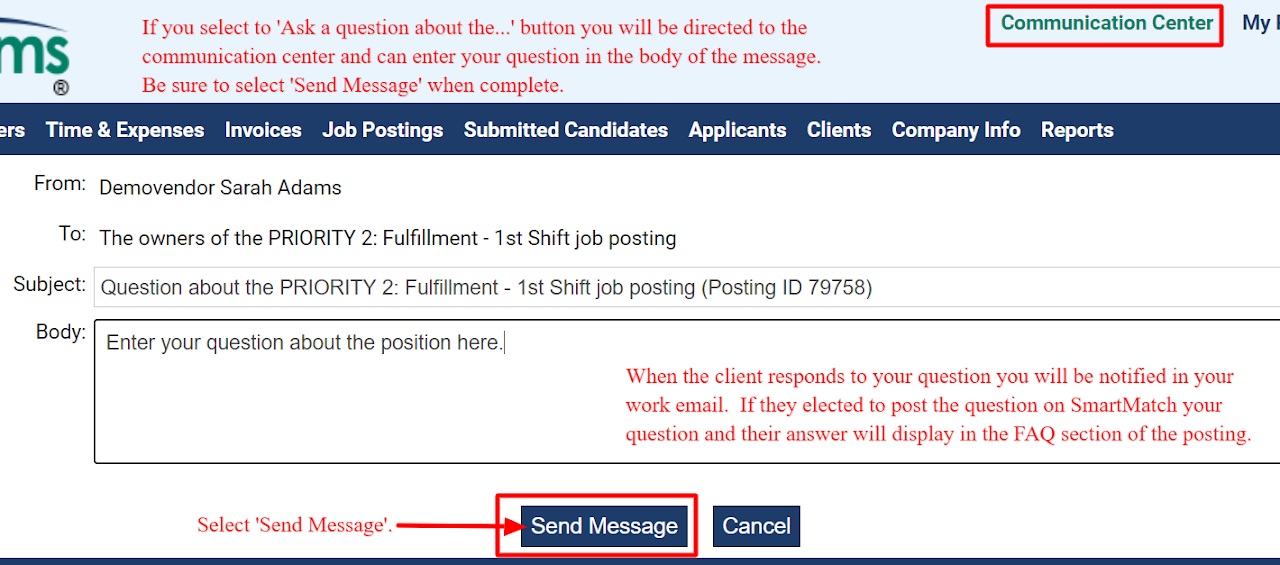 Attachments: Any attachments associated with this job title or client will be available for your here. Attachments are not a requirement, postings do not have to have any available.