The Workers tab is designed as a repository for all data about each Worker in SimpleVMS. You can quickly check rates, attendance, notes, documentation, etc. directly from the workers profile.
When the 'Workers' tab is selected by default you will only see your active roster of associates. SimpleVMS keeps records of closed out associates as well so you will always be able to access information on workers no longer on assignment.
If you are looking for a particular worker to view details on or add a note to their account, you can search for them in the system from this tab.
To locate the worker:
Type a few letters of the first or last name.

Uncheck the 'Show only Active' box if the worker you are wanting to view is no longer on assignment.

Select 'Search' and then select the name of the worker you wish to view to open their worker profile.


---
A workers profile is a marriage of the details of the position the associate was assigned to as well as the details for the worker you as the vendor provided for this associate upon submittal to the job posting.
On the associates worker profile you can view their 'Username' aka clock number. If your associates are using SimpleVMS timekeeping this is the number that the worker will use to punch in and out with at the timeclock.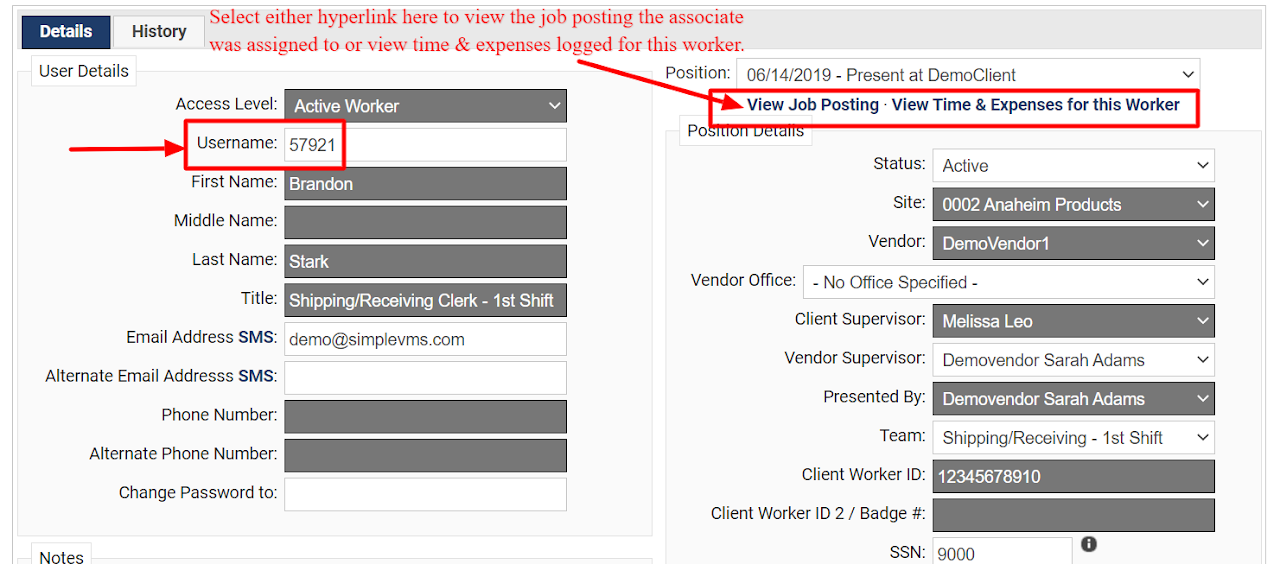 SimpleVMS offers 2 fields that vendors can use to enter any unique identifiers for their workers. Information entered in these fields for the worker will pull on invoice reports allowing your agency to potentially import time directly into your payroll system to help eliminate duplicate data entry.

---